Originators: Aquamec LTD, Creators of the world renown Watermaster ®
Aquamec develops, manufactures and markets the Watermaster multipurpose machines.
With over 300 references in over 70 countries, Watermaster is the number one solution in the world for environmental shallow water dredging.
Aquamec is part of Lännen MCE group of companies. Besides Watermaster the group is known for the brand names Lännen and Lundberg.
Our machines are made for demanding applications in environmental restoration, construction and maintenance fields.
US Manufacturing Partner: Blount Boats
Blount Boats, Inc. is a full-service shipyard specializing in design, construction and repair of steel and aluminum vessels up to 220 feet. Founded as Blount Marine Corporation in 1949 by Luther H. Blount (1916-2006), the company is privately held and managed by the Blount family. After Luther Blount built his first boat, a 77' steel catamaran, he bid and won a job to construct a fuel oil service vessel using the same catamaran concept based on two cylindrical floats which he dubbed the "twin tube."
This design was succeeded by a progression of larger and more complex vessels resulting in a quantum expansion of the shipyard. One of the most famous vessels built at the shipyard was the 130-foot, 600-passenger Miss Liberty. Built in 1952, this boat carried over 60,000,000 passengers from Manhattan to the Statue of Liberty for the Circle Line.
In 1955, the "Blount 65" made its debut and was an immediate success with ferry, commuter and excursion operators. Blount designed and built America's first commercial stern trawler, the Narragansett, in 1962 with the goal to enter the New England fishing industry market. In the 1970's Blount designed and built offshore supply vessels for the U.S. oil industry. The largest of these vessels at 192 feet long were equipped to carry 3,900 cubic feet of drilling mud in six tanks, 350,000 gallons of drill water and had a deck cargo of 640 long tons. The Le Bateau dinner boat, built in 1972, is believed to be the first to operate in the U.S., launching the excursion dinner boat segment of the cruise industry in America. During the 1980's, a group of "Spirit Class" dinner boats were constructed with three decks designed for cruising major U.S. harbors.
In the 1990's, three small ship cruise vessels, each carrying up to 100 overnight guests, were built for Blount family sister company, American Canadian Caribbean Line (ACCL), a niche cruise operator. Blount designed and engineered retractable pilot houses to permit low bridge clearance, bow ramps to allow beach landings, and glass bottom boats.
Today, the Blount family is carrying on the Blount tradition and is charting a course to remain a strong, innovative and successful leader in the marine industry.
Custom Trailer Partner: Eager Beaver Trailers®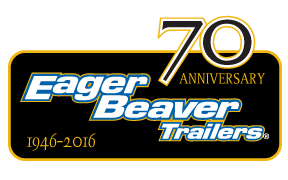 Since 1946, Eager Beaver Trailers® has been manufacturing the highest quality construction equipment trailers from 5-100 ton capacities. The company's approach to transportation safety has made Eager Beaver Trailers® a leader in product development and dealer support nationwide.
At Eager Beaver Trailers®, your business is important to us. As part of our customer service, we can supply you with the engineering and sales support needed for a custom-designed trailer that is best for your business.
Although many look-a-likes are on the road today, no other trailer company provides the latest technology innovations and offers more standard features on tagalongs and detachable lowboys than Eager Beaver Trailers®. We use only the highest quality components on the market to ensure a safer haul, and most importantly, a more reliable trailer.